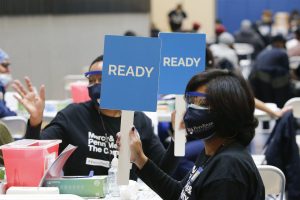 The University of Pennsylvania Health System early Thursday started running the emergency department at the former Mercy Hospital in West Philadelphia as part of a partnership with Public Health Management Corp., Independence Blue Cross, and Trinity Health, the hospital's former owner.
The new name of the facility at 501 S. 54th St. is PHMC Public Health Campus on Cedar. In addition to the emergency department, Penn will operate about 100 inpatient beds — including bed for patients needing mental health treatment — under the license of its flagship Hospital of the University of Pennsylvania.
PHMC, which will own the building, plans to add additional services, including primary care, outpatient behavioral health services, and respite care for patients leaving a hospital but needing more recovery time before they can go home, PHMC's chief executive Richard Cohen said.
Negotiations are underway with the Children's Hospital of Philadelphia about what services that institution might provide. Cohen said it was possible that CHOP would be the second biggest tenant in the building behind Penn.
Penn, which is investing $30 million in the project, prepaid its $10 million lease, so PHMC could use that money to buy the building from Trinity, said Kevin Mahoney, CEO of Penn's health system. Mahoney said Penn didn't want to take over the whole building because it's too big for Penn's needs there.
Penn executives hope that over time with a stronger primary care base that the emergency room won't need to have 48,000 visits a year, as it was doing, Mahoney said. "If we're effective, 10 years from now, we don't need beds or the emergency room because we've put other ambulatory services in place, doctors offices, primary care, maybe some specialty practices, better imaging."
In a recent credit report, Standard & Poor's described the effort at Mercy as an example of strong leadership at Penn Medicine.
"UPHS spearheaded the creation of a new entity, in partnership with other market participants, to assume control of a soon-to-be-closed neighboring hospital to spare the local community from a possible healthcare desert and prevent an influx of volumes at its already high-census downtown campuses," S&P said.
Mercy, which was licensed for 157 beds when Trinity owned it, employed 800 in September when the sale to PHMC was announced. Penn said it offered jobs to 500 former Trinity employees in the areas of the hospital it is taking over. That includes jobs with vendors for food service and cleaning.
A job fair is scheduled for April 14 for openings in nursing, clinical operations, and support staff roles, Penn said.
*Article courtesy of The Inquirer
For more information about Philadelphia medical space for sale or lease or about any other Philadelphia properties for sale or lease, please contact WCRE at 215-799-6900.
Wolf Commercial Real Estate, a full-service CORFAC International brokerage and advisory firm, is a premier Philadelphia medical commercial real estate broker that provides a full range of Philadelphia commercial real estate listings and services, property management services, and marketing commercial offices, medical properties, industrial properties, land properties, retail buildings and other Philadelphia commercial properties for buyers, tenants, investors, and sellers.
Please visit our websites for a full listing of Philadelphia commercial properties for lease or sale through our Philadelphia commercial real estate brokerage firm.