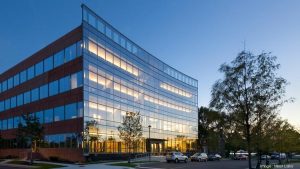 The Philadelphia Navy Yard is getting another health care tenant later this year when Mast Labs opens an independent surgical training center at the site.
The first Mast Labs was established in Bethesda, Maryland, two years ago by Dr. Scott Faucett and Terence Redmond to serve the Washington, D.C., region.
Jeff O'Donnell Jr., who was recently named president of Malvern-based Waypoint Orthopedics, joined the Mast Labs group as a general partner to bring the organization's first expansion site — with its own limited partnership of local surgeon investors — to Philadelphia.
"I've wanted to do something like this forever," said O'Donnell, a health care entrepreneur who has spent the past decade in the medical device industry working for companies such as DePuy Synthes, Intact Vascular and Trice Medical. "There is no independent place companies can use for training. I talked with Scott and Terry and said we need to do this in Philadelphia. … This is a growing med-tech hub. There is a market here for something like this."
O'Donnell said while large medical companies typically have cadaver labs at their headquarters where they can bring surgeons in for device demonstrations and training, smaller companies are left scrambling to rent space after hours at places such as ambulatory surgery centers or hospitals.
Such arrangements are not ideal, he said, because companies need to get in and out of such sites quickly, limiting their contact time for "relationship building" with the surgeons they hope become customers.
O'Donnell said they have raised just under $1 million to create and fund a 5,000-square-foot Mast Lab at One Crescent Drive in the Navy Yard.
Construction of the facility is expected to begin in the next few weeks with an opening targeted for September.
O'Donnell said the site will feature two wet labs, a lecture hall, modular space for large or small meetings, and locker rooms.
"We want to be that one-stop shop companies need," he said. "When they have a new product, physicians need to be trained and the best way to do that is with a cadaver. Our site will have all the amenities companies need to do that training."
O'Donnell said they selected the Navy Yard because of its centralized location in the Philadelphia region and its proximity to the Philadelphia International Airport, which will make it easy for companies to fly in experts to talk with doctors.
He expects the lab to be staffed by 20 to 25 per diem nurses and technicians, and projections are the facility will be profitable within two and a half years.
O'Donnell was named president of Waypoint Orthopedics earlier this month. He joined the company at the start of the year as vice president of business development and marketing.
Waypoint, which was founded last year, is developing instrumentation for use in spine surgery. The company, according to documents filed with the Securities and Exchange Commission, recently raised $600,000 through a private stock sale — augmenting the $300,000 in raised in December — to fund its ongoing product development efforts.
*Article courtesy of Philadelphia Business Journal
For more information about Philadelphia medical space for sale or lease or about any other Philadelphia properties for sale or lease, please contact WCRE at 215-799-6900.
Wolf Commercial Real Estate, a full-service CORFAC International brokerage and advisory firm, is a premier Philadelphia medical commercial real estate broker that provides a full range of Philadelphia commercial real estate listings and services, property management services, and marketing commercial offices, medical properties, industrial properties, land properties, retail buildings and other Philadelphia commercial properties for buyers, tenants, investors, and sellers.
Please visit our websites for a full listing of Philadelphia commercial properties for lease or sale through our Philadelphia commercial real estate brokerage firm.