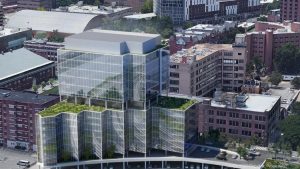 A Washington, D.C., real estate company plans to develop a $190 million, 185,000-square-foot life sciences building in University City that will also have manufacturing space, setting it apart from some of the other proposed or newly constructed properties that cater to these companies.
Republic Properties Group entered into a 90-year ground lease with SEPTA on a parcel at 125 N. 32nd St., which sits between Powelton and Market streets. The site is adjacent to SEPTA's Powelton Rail Yard and overlooks the Schuylkill Expressway.
Republic is partnering on the project with Richard Hayden, who co-founded Philadelphia real estate firm PHL Next Stage Med LLC.
The proposed 11-story building will be called Ultra Labs and is being billed as "one of the world's most advanced cell-and-gene therapy research, development, and fully engineered [Certified Good Manufacturing Practices] production centers."
In the race to land tenants and develop buildings catering to life sciences companies, providing manufacturing space will be a differentiator.
Republic Properties will join Brandywine Realty Trust (NYSE: BDN) and a partnership involving Wexford Science and Technology and Ventas Inc. (NYSE: VTR) in pursuing the development of life sciences real estate in University City. The desire to fill vacant office space in Center City has also prompted landlords to explore converting existing space to cater to life sciences tenants who don't want to wait for new developments to be completed.
Though an experienced developer, Ultra Labs is the first lab-office-manufacturing project Republic Properties has undertaken and its first in Philadelphia. The company's interest is another example of Philadelphia increasingly attracting outside real estate investors looking to seize upon its growth in life sciences. Silverstein Properties of New York and GIC, an investment arm of the Singapore sovereign wealth fund, have also made significant investments in Philadelphia life sciences real estate development.
"I think Philadelphia is a special place because of its concentration of expertise and institutions and that, coupled with its position on the Northeast Corridor and proximity to New York and Washington, D.C., vis-à-vis the National Institutes of Health, make it very special from a locational standpoint," said Steven Grigg, president and co-founder of Republic Properties. "The project in many ways is unique."
Ultra Labs was designed from the outset to incorporate both lab and manufacturing space, Grigg said. Manufacturing spaces will have mezzanines and floors sized such that natural light flows into the core. Elevators catering to the different spaces were located and placed in separate areas. Emergency and redundant power sources were also incorporated into the design.
L2P, a Philadelphia architecture firm, designed the space.
Grigg and Robert Scheer of Scheer Partners Inc., which will oversee leasing the space with colleague Tim Conrey, believe tenant interest for this specialized space will support its development. In fact, Sheer predicts that current and future demand by life sciences firms in Philadelphia will fill the projects that are in the works including Ultra Labs.
"We actually think Philadelphia could become one of the top-tier clusters in the United States," Scheer said, adding that Ultra Labs is positioned to seize upon that demand because the ability for companies to do small scale manufacturing on site.
"There are other buildings that can support lab but this building has been designed specifically for cell-and-gene labs and the ability to CGMP manufacturing," Conrey said. The building sits in a Federal Opportunity Zone.
Grigg expects to break ground on Ultra Labs by year end.
*Article courtesy of Philadelphia Business Journal
For more information about Philadelphia medical space for sale or lease or about any other Philadelphia properties for sale or lease, please contact WCRE at 215-799-6900.
Wolf Commercial Real Estate, a full-service CORFAC International brokerage and advisory firm, is a premier Philadelphia medical commercial real estate broker that provides a full range of Philadelphia commercial real estate listings and services, property management services, and marketing commercial offices, medical properties, industrial properties, land properties, retail buildings and other Philadelphia commercial properties for buyers, tenants, investors, and sellers.
Please visit our websites for a full listing of Philadelphia commercial properties for lease or sale through our Philadelphia commercial real estate brokerage firm.